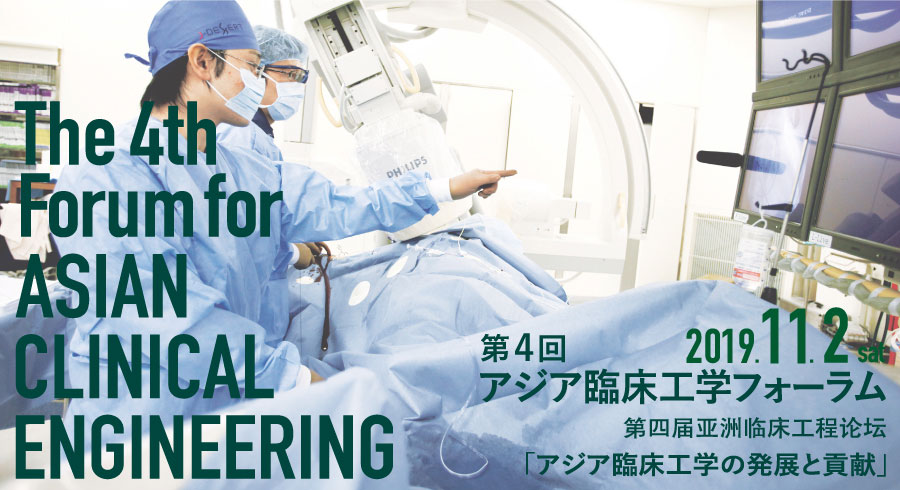 The 4th Forum for Asian Clinical ENGINEERING Outline
As globalization progresses, it focuses on quality assurance in higher education and international standardization of vocational qualifications more and more. With the development of science and technology such as AI (Artificial Intelligence) and ICT (Information and Communication Technology), the environment of health care and welfare is about to change greatly. Due to drastic progress of medical devices, the field of clinical engineering has especially become more complicated and sophisticated. As a specialist, roles of clinical engineering technicians have become increasingly important. This forum is themed "Contributions and Development of Asian Clinical Engineering". We would like to take this opportunity to improve both the quality and technical skills of clinical engineers, and to also promote international standardization of vocational qualifications.
We would like to contribute to the further development of clinical engineering in the field of Asian health care, and the promotion of Asian professional training.
Saturday, November 2, 2019 9:00~18:00

Tokyo convention hall (Tokyo square garden 5F)
3-1-1 Kyobashi,Chuo-ku,Tokyo,104-0031, Japan
"Contributions and development of Asian Clinical Engineering"
Japanese, Chinese, English
Osaka Jikei College,
Graduate School of Health Care Sciences, Jikei Institute
Asia Vocational Human Resource Development Center
Chinese Hospital Association,Chinese Medical Association,
Shanghai University of Traditional Chinese Medicine,
Shanghai University of Medicine & Health Sciences,
Shen Zhen Polytechnic, Guangdong Medical University,
Guangdong Pharmaceutical University
Ministry of Education, Culture, Sports, Science andTechnology,Tokyo Metropolitan Government,
Japan Association for Clinical Engineers,Japan Association of Educational Facilities of ClinicalEngineers,
Clinical Engineering Global Promotion Foundation,Tokyo Association for Clinical Engineering Technologists,
Osaka Nursing Association, Chinese Hospital Association,Chinese Medical Association,
The Asahi Shimbun Company,THE NIKKAN KOGYO SHIMBUN,LTD. ,Fuji Sankei Business i., and more
Clinical engineer, Medical professional, Researcher, Administrative officer, Medical device manufacturer・Individuals(such as Teacher of clinical engineer training school) those who are interested in Asian clinical engineering.
Abstracts should be relating to "Contributions and development of Asian Clinical Engineering"
[Japan]Asia career development center in Osaka Jikei College

1-2-8 Miyahara, Yodogawa-ku, Osaka, 532-0003, Japan
TEL: 81-6-6150-1301
[China]Shanghai University of Medicine & Health Sciences
No.279, Zhouzhu Road, Pudong New Area, Shanghai, P.R.C. 201318
TEL:86-13166056556